A quick Overview of Ancilla College

04
Ancilla College


A redesign, re-organization, and re-development of a college website using WordPress and top-industry navigation practices.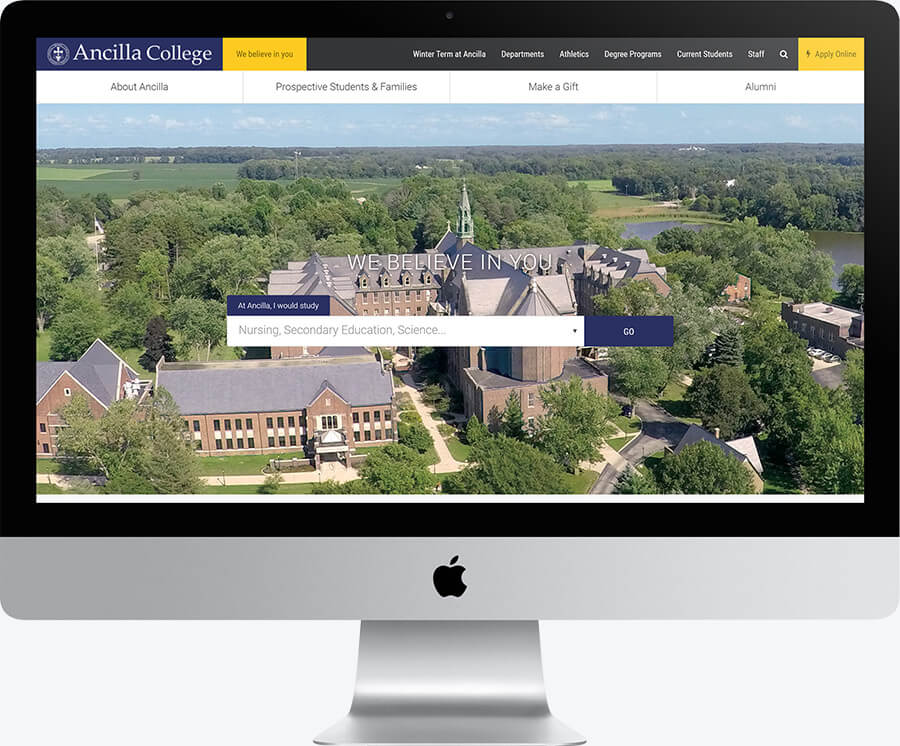 Project Completion Date
November 01, 2016
Client Location
Donaldson, IN
Services Provided
Web Design
Web Development
Consulting
Client Industries
Education
Non-Profit
Religious
Team Notes
It's always a treat for us to start a project with a mess of a site and turn it into a well-organized piece of work.
Learn about our process on this project.
The Internet For Education
Many college websites are hard to navigate, clunky, and awkward to use. The overall user interface and user experience (UI/UX) is terrible and almost unusable. This problem isn't entirely their fault; colleges have a ton of information to display with no easy way to categorize it.
Our goal with Ancilla college was to take the user flow and simplify it so people could go precisely where they needed quickly and efficiently.
Organization
We started out by researching what users want to do which led us to a breakdown into a few categories:
Current students
Prospective Students
Faculty
Alumni
We proceeded to group content based on each class of users.  We then developed an organizational structure which felt natural and organic instead of confusing, allowing users to navigate the site quickly.
Design Conceptualization
After we spent time breaking down the content of the site, we moved on to implementing a design. Our goal for the site was to keep the look clean, usable, and professional. We did this by emphasizing the use of whitespace in the navigation and within the content so critical information would stand out from the page and allow the users to search for more detailed information only if they were interested. By doing this, we reduced the time students and faculty had to spend on the site significantly.
However, aside from those already at the college, a significant focus of the user interface was centered around prospective students. We looked into the data from the previous site and noted prospective students most often look for programs of education which are most interesting – in fact, for over 80% of potential students, this is the first page they navigate to as soon as they land on the site. As a result, in the header navigation, we highlighted this area of the site. To further emphasize upon this fact, we added a searchable box to the top of the homepage to allow prospective students to immediately search for their field of study instead of having to sort through a long list of programs.
Developing the Content Management System
After finalizing the design, we started to build the content management system. Moreso than in the past, this CMS required plenty of planning and user flow charts. This extra planning was due to the number of administrators managing the site – each with different permissions and content management levels. We started by working with the administration to define the roles of users who would be working with the CMS. After determining their capabilities and editorial capacities, we configured user roles to ensure content entry would be as comfortable as possible.
After assisting with the initial content entry, we provided educational screencasts as well as several on-site tutorials on how to use the site. We then offered a year-long assistance program should any training need to completed after launch.
Take a look at how it turned out.